Comment:
Great place and free, can't ask for more.
Road in was a bit bumpy. Everything in the park is closed down for the winter.
You can still use the bathroom at the visitor center. Free wifi at visitor center.
They was kind enough to let us fill our 7 gallon water jug.
Blog: Adventurerroadrunners
Place: Mesa verde Nationalpark (outside In BLM)
Visited: November 2nd, 2018
Location: 37.359120, -108.424431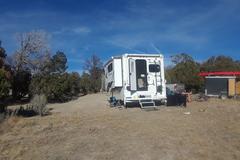 Uploaded Images:
Back