Comment:
Hello Overlanders.
As La Paz begins its transition into winter and the dry season, I thought I should post an update about what is happening at Hotel Oberland.
The chamber of tourism in La Paz recently completed an inspection of the hotel and as a consequence, has awarded a new official rank of 4 STARS to us. This means that we are now officially a 4 star hotel. This is due to the extensive renovation and improvements we've made since purchasing the hotel in August 2018.
The installation and inspection of a mains gas supply is now complete. So in May 2019, we hope that this will be activated by the local town council and free us of our dependency on gas bottles. All rooms, the camping bathroom area, and more importantly, the swimming pool, will have access to gas 24/7. This is fantastic news for our pool, as it will be heated with gas to a constant 32 degrees.
Thanks to this gas supply, and our dedication to improvement, the sauna and steam room are just a few short weeks away from completion. The new sauna was completed just days ago with new Pine wood, and the steam room has been completely tiled for style and comfort.
Some slightly sad news is that the local mayors office has raised the prices of local taxes and the cost of electricty in our area. Sadly, this has affected us and we've been forced to raise our prices by 10BOB to 70bs per night. I sincerely wish we didn't have to do this, but sadly we had to react to our growing costs.
On a more positive note, we still have lots of work planned for the hotel - A new menu, more variation of drinks and a plan to make our camping area better and more comfortable. We have a new playground for the young Overlanders and a completely refurbished swimming pool which is open every day from 9am until 8pm.
Finally, we finally have access to better internet. So now all campers can enjoy a much faster internet connection for video calling, uploading photos or whatever takes your fancy.
Overlanders at our hotel can now enjoy fast internet, 24 hour security, gas bottle refill, electricty, hot showers, access to the pool, sauna and steam room, beautiful gardens and of course, all pets are more than welcome!
I'm always open to feedback, so if you are passing by in the near future, please feel free to seek me out and introduce yourself to me. Meanwhile, I wish everyone safe travels and happy camping, whever it may be.
Jamie (Operations manager, Hotel Oberland)
Blog: jtjhenderson
Place: Hotel Oberland
Visited: April 18th, 2019
Location: -16.568343, -68.089908
Rating: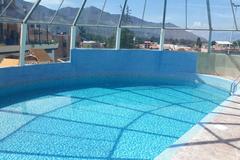 Uploaded Images:
Back