Comment:
Coming from Lake Titicaca you should not let the GPS lead you through the city of La Paz. A few kilometers from the private airport (right side) at S 16.50344 W 68.16327 turn right on the "1" towards Oruro. At the roundabout at W 68.17922 S 16.55438 turn left to the valley to the Hotel Oberland .
One of the most famous meeting point for Overland traveler in South America. It is small parking lot of the hotel Oberland. Place is not level and the car has to be leveld. Very nice and clean bathrooms. Free WIFI. If it is full, you have to park very close to each other. The food in the restaurant is great! Laundry for 15 Bolivianos / kg.
You can take a taxi to the mall "Mega Center" (18-20 Bolivianos / ride). There is also an excellent supermarket where you can buy grocery much cheaper than in Peru.
(50 Bolivianos / person)
Blog: abenteuertour.de
Place: Hotel Oberland
Visited: January 1st, 2012
Location: -16.568400, -68.089410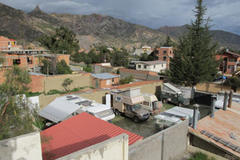 Uploaded Images:
Back