Comment:
Friendly. 500 uru for 2 per night, now plus 165 uru for each extra person. Lock up your food, because their dogs and cats will other get it.
A long way from town.
Check the photo for the entrance. The yellowish gate is often closed.
Blog: jdeacon
Place: Organic farm "Granja la Orientala"
Visited: February 13th, 2018
Location: -34.812040, -56.122160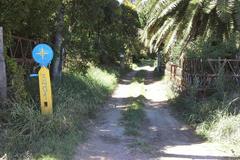 Uploaded Images:
Back