Comment:
Great little place in downtown, you'll only fit in with a small trailer or camper - we would think max 30 feet.
Hot showers and clean bathroom.
Wifi comes and goes, close to a cell tower.
full hook-up 250 P - week 1596 P.
no services 200 P - week 1200 P.
Owner Alberto was super helpful.
This place had the first doctor of town in the 1800 living here, distant family to the owner now.
Blog: Adventurerroadrunners
Place: Romanita RV Park
Visited: December 2nd, 2018
Location: 26.011063, -111.341043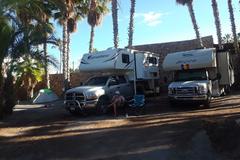 Uploaded Images:
Back