Comment:
This is a great RV park with lovely facilities. The RV park is at the lowest level of the property and has its own amazing bathroom incl hot shower with good pressure. Best bathroom we had in Central America. The other facilities you can use are up some stairs, like a swimming pool, jacuzzi and a terrace with a view with fast WiFi. We also had an amazingly good massage at the spa, just ask Javier. And they have yoga on Saturdays at 9am.
Dog friendly and gated. Only downside is that it's hard to find a leveled spot.
Definitely recommend if you want to relax a bit. Taxi to the center 50P at daytime and 80P at night.
Blog: dmandvetti
Place: Casa Estrella Wellness Center
Visited: January 22nd, 2019
Location: 21.041960, -101.259823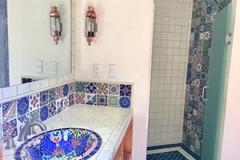 Uploaded Images:
Back