Comment:
Yesterday we've discovered this tranquil campsite while strolling down the beautiful bay of San Augustin.
Besides places for campervans, there's a nice spot to pitch your own tent or use one from the owners for a real reasonable amount (including airmatress)
The campsite provides a place for cooking and has clean and neat toilets and bathroom.
It takes approxamitely 10 steps to take a swim and the view at the pacific ocean from your tent is stunning!
Recommendation for backpackers: beautiful place, clean, cheap and WIFI. There's a hut to store your backpack as well.
Besides that we had a warm welcome by the two lovely Dutch owners!
Blog: essepoester
Place: Overlander Beach Campsite "Don Taco".
Visited:
Location: 15.69049, -96.23681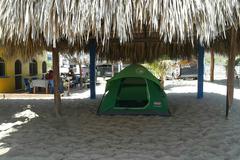 Uploaded Images:
Back