Comment:
Great place to spend the afternoon and night.
We arrived around 3pm, we swam into the pools, was not so crowded (on a Tuesday).
Then we went for a hour hike to see the Cascadas de Piedras. The best part was after 7pm when everybody leaves and you almost all place for you - we were only 3 vans staying there at night. Beautiful view!!!
They left one toilet open and clean for us. 50pesos per person + the entrance fee of 25pesos. Recommended!
Blog: instagram.com/panamelicarlos
Place: Hierve el Agua
Visited: February 19th, 2019
Location: 16.866852, -96.276503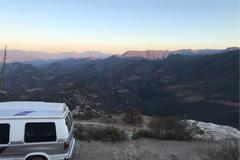 Uploaded Images:
Back