Comment:
For us the best place to stay at the lake. We are here with our 4 x 4 Camper (2,40 m width, 8 m long and 3,40 m hight) and found a nice, clean and quiet place.
Approx. the last 10 Km of the road is very steep, winding and poor but possible to drive if you drive carefully. The entrance road is narrow for this kind of vehicle but it worked, too.
There is enough space for more than three vehicle but the surface is not plane everywhere. You have to use stones or boards to level your vehicle.
Blog: Ilka
Place: Pasaj cap - Lago Atitlan
Visited: April 3rd, 2016
Location: 14.723200, -91.249860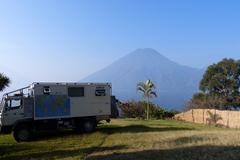 Uploaded Images:
Back