Comment:
Very steep, rough track.
We left our 5th wheel on the highway and did a day trip. Glad we did.
You wouldn't make the first sharp bend at the bottom of the track with a tow behind never mind turn round at the top.
Condition I saw the track in, Id say 4wd or short wheel base Van, VWt5 or similar.
Totally worth the trip to the top though. We saw far more and far more impressive icebergs than in Twillingate and theres a beautiful hike down the other side to the lake.
Best free spot i saw was about 5km down the St Lewis Rd from the highway on the left. Big quiet pull out.
Blog: Rowly
Place: St. Lewis, Parking of Deep Water Creek Trail
Visited:
Location: 52.37011, -55.66390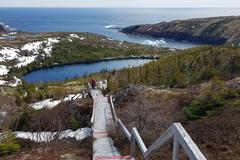 Uploaded Images:
Back