Comment:
Excellent place! We ended up staying here longer than we planned and really enjoyed it. Camping area is just a parking lot, and you'll need leveling blocks for most spots, but it is tidy and has trees, a nice bathroom, and a view of the church. There is water, electricity, and dump sites. Up through the garden is a new gym (!!) with a weight machine, elliptical, and yoga mats. Also a patio with a great view. WiFi up there was fast and dependable. They also let us use the washing machine and dryer.
It was very easy to get to and from town — bus picks up at the corner. $7mxn and 10-15 minutes. To get back to Valenciana you catch the bus at the point in maps.me that says "Bus Valenciana," or a taxi back was 50-60 pesos.
Our 3.05m van fit through the gate (labeled 3.12m) with room to spare. Still $300mxn per night.
Blog: there.today
Place: Casa Estrella Wellness Center
Visited: August 24th, 2019
Location: 21.041960, -101.259823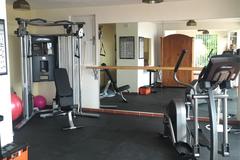 Uploaded Images:
Back