Comment:
Beautiful spot to chill out for a couple of days. 100 peso a night with older palapa (extra 50 for the nice ones).We got a spot in front of the bar, so had loud music, however it quietened down pretty early. Could not hear it further down when we went for a walk.
Vendors came to sell some food and beach items (towels, blankets etc) in the morning. Also vendors who can take you out on boats. 400-500peso for 1 hour (could probably barter for less). Also sell kayaks.
We had our paddle board, and did some paddling around the bay and islands. So nice!
Oh and they have flush toilets. They were pretty clean when we used them :)
Blog: troopytravels.wordpress.com
Place: Playa Santispac
Visited: April 22nd, 2016
Location: 27.591005, -113.029448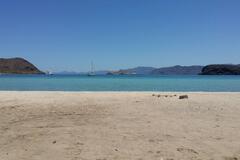 Uploaded Images:
Back