Comment:
I fell in love with this bay as soon as I saw it from the main road.
I slept in my hammock in a palapa, charged $200. As usual, just go to the toilets if ou have an emergency. There's a barrel outside with a bucket to flush.
some restaurants and vendors on the beach, nothing to complain about on a Friday afternoon and night. music stopped at around 9pm.
crystal clear water, saw dolphins, eagles and pelicans, and the water is warm enough to enjoy.
The place is clean, lots of space. On the down side, trucks air brakes can be annoying, but the night was really quiet, just noise of the highest tide coming and crickets.
beautiful place, not crowded, so far my best day and night in Baja.
Blog: fred-971
Place: Playa Santispac
Visited: November 1st, 2019
Location: 26.763983, -111.887964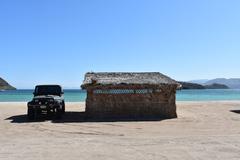 Uploaded Images:
Back