Comment:
We were here for one night with a Camper trailler in a F150.
It was ok. I was a little worried because it is a residential area, but no one asking us.
No issues and a silent place.
In the morning was raining, but the view is wonderful although this.
Blog: TuristandoEtc
Place: Murray Blvd-Ashley River Charleston SC
Visited: February 5th, 2021
Location: 32.769607, -79.935077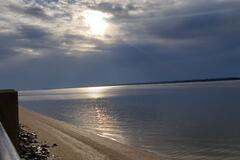 Uploaded Images:
Back