Comment:
This is probably our favourite campsite on the trip so far. Waking up to that view every morning was bliss! The weather is perfect here, even in rainy season it only rains in the afternoon with gorgeous sunshine in the morning. Swimming in the lake was heaven (it's calmer in the morning).
We have a 23ft / 7.2m by 2.8 wide by 3m tall 5 tonne 1993 motorhome with low ground clearance, drum brakes on the rear and no four wheel drive. We read the reviews here about the road down to San Marcos and decided to give it a go - it would be an adventure! And we actually loved the drive down. There were some potholes and bad patches of road but nothing that careful driving couldn't handle. We stopped 3 times to let our brakes cool down, in beautiful spots.
We planned to stay for 2 nights and ended up staying for 12 weeks! We needed to do repairs on our van anyway and decided that this was the perfect place to do spend time whilst we did it.
We made great friends with other overlanders too, many of whom came to camp and ended up renting one of Pierre's apartments for a month or two's rest from the road.
You can catch a boat from Pasajcap's private dock to towns on the lake. Food shopping is easy in San Marcos, and for more options San Pedro market is good too. San Pedro also has a brilliant health food store. Check out Smokin Joe's Sunday BBQ in San Pedro :) Delicious all-you-can-eat food and great, cheap cocktails. Pana is a longer boat ride but is worth it and the shops and market have more variety. Chalos and Sandra's supermarkets on the Calle Principal have loads of western foods if you are missing anything from home :)
Pierre and the people who work for him are all incredibly friendly, welcoming, helpful and attentive. They have just put in a new gas powered shower and are building a new bathroom and shower block and communal space with BBQ closer to the main camping area.
There is a communal camping 'field' with the best views at the bottom of the property, with a couple of more private, single camping spots nearer the present bathroom. We couldn't recommend this place enough.
Blog: DreamDriveRepeat
Place: Pasaj cap - Lago Atitlan
Visited: October 16th, 2016
Location: 14.723200, -91.249860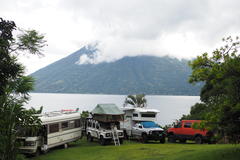 Uploaded Images:
Back