Comment:
beautiful, small and personal overlander-beachcamp with very clean shower and toilets (with seats and toiletpaper) and direct access to a beautiful beach and the ocean, perfect for swimming, right from the backdoor of your camper. 250 pesos per night for a camper with 2 persons.
Blog: hansvandeursen
Place: Overlander Beach Campsite "Don Taco".
Visited:
Location: 15.69052, -96.23702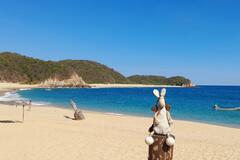 Uploaded Images:
Back