Comment:
Very good place to take a break for a few days or longer, and to meet people (if you want).
Wanted to stay a day or two, turned out to be a week, we got into the relax mode.
- Clean toilets & showers.
- Fast WiFi.
- Communal kitchen, no fridge.
- Big pallapa, so enough shade 😀
- Direct on the beach, good snorkling.
- Snorkling tours.
- They rent out small tents and snorkling gear.
- For vehicles/campers,
Elektricity available
For dumping black and gray water you must move your vehicle there.
- Vehicles will be very close to eachother when it's full.
So far the most important data. We knew with our truckcamper (20 ft) we would be close to the next one.
The Dutch hosts & owners are very hospitable, they will help you with anything if they can.
We enjoyed every day at this place with snorklingsessions, beachwalks and beautiful sunsets.
I say, recommended!
Blog: menno.panneman
Place: Overlander Beach Campsite "Don Taco".
Visited:
Location: 15.69041, -96.23703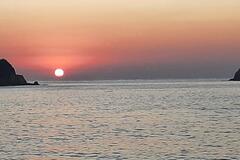 Uploaded Images:
Back