Comment:
Perfekter Campingplatz direkt am Wasser. In der Bucht kann man toll schnorcheln. Der Besitzer bietet außerdem tolle Bootstouren an. Wir haben Delfine und Schildkröten gesehen und haben anschließend zum Schnorcheln eine weitere Bucht angefahren, die man nur mit dem Boot erreichen kann. Wir haben uns bei Anneke und Franz sehr wohlgefühlt. Die Duschen und Toiletten sind super sauber.
Perfect campsite right on the water. The showers and toilets are very clean. The bay is great for snorkeling. The owner also offers great boat tours. We saw dolphins and turtles and then went to another bay for snorkeling, which can only be reached by boat. We felt very comfortable with Anneke and Franz. They are very helpful with everyone.
Thank you
Blog: Hummeldumm
Place: Overlander Beach Campsite "Don Taco".
Visited:
Location: 15.69074, -96.23885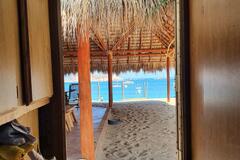 Uploaded Images:
Back