Comment:
We came to stay 2 nights and ended up staying 6 nights. The owners are great. Great and fast wi-fi. Super clean campsite. They have a lady that came daily to clean. Outdoor kitchen is great with sink, 2 burner gas stove top, plates and silverware and some pans you can use. Came a week after hurricane Agatha. This large cove survived the hurricane. Put on your list to come and stay.
Blog: Janice Cooper Eddy
Place: Overlander Beach Campsite "Don Taco".
Visited:
Location: 15.69055, -96.23704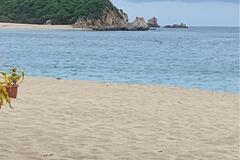 Uploaded Images:
Back