Comment:
Wonderful place to stay around Lake Atitlan, but a word of warning, the road is worse than expected and not for the faint of heart. My truck is 28ft with the hitch and I think this is probably the longest and biggest one can manage down the road. However once arrived you have found paradise. There is now room for 10 vehicles. Q75 for camping per truck for 2 people, Q 90 for 3 pp, rebate only for families over long stays. Electricity and water available. Wifi signal intermittent. Pierre the owner also has12 casitas for rent. $250/ week in low season (June to mid July and Sept/Oct) otherwise $350/week or $675/month incl. housekeeping. No matter where you are on the property you have a great view of the volcanoes bordering the lake. The staff is very friendly and helpful but does not speak English. Pierre sells wine, meat, seafood and drinking water. Laundry can be done by hand by the staff. Brand new, clean and modern hot showers and bathrooms. Water bassins for dishes and laundry and also BBQ stands. Palapas strewn across the property with hamacs for RnR. You can walk, take a tuk tuk or the lancha (taxi boat) to San Marcos which it is a great place to take Spanish lessons. From there you can take the boat to pretty much anywhere on the lake.
This being a French owned property, there is a daily 5:30 pm Happy Hours (BYOB) under the main palapa. It is a great way to meet Pierre's other visitors and learn about the many activities around the lake.
To find "Chez Pierre" continue driving past San Marcos to the large black gates with the bell on the top left hand side. Just ring a few times and allow Diego time to walk to the gates. This is a large property so be patient.
This is a cash only facility (in Quetzales) but it is easy to get cash in San Marcos or any of the villages around the lake.
Blog: KikiRVadventures
Place: Pasaj cap - Lago Atitlan
Visited: February 26th, 2017
Location: 14.723200, -91.249860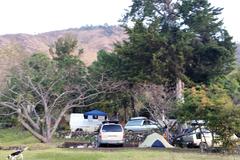 Uploaded Images:
Back