Comment:
We just wanted to stop for a coffee because we read that the owner is a german. The coffee tooks 7 days now :-)
What a beautifoul and clean place.
We did a tour to caye caulker , ATM and zip lining. Monika organised everything and is a real sweetheart.
5 stars for the 2 guest houses , rv parking slot with gate.
Blog: schoen.minden
Place: MAYA HILL LODGE
Visited: November 4th, 2017
Location: 17.221833, -88.913861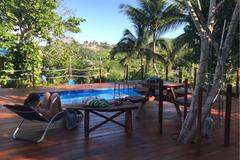 Uploaded Images:
Back